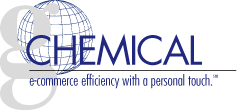 Company Profile
The GChemical Company is a specialty chemical company that provides Total Business Solutions to markets we serve.
We provide customer-focused, value-added chemical programs, systems and services for the optimization of customer processes at lowest costs.

We achieve this by maximizing the efficiency and productivity that e-commerce provides and by holding our overhead costs to the absolute minimum.

We utilize local technical experts that focus on rapid response to customer issues.

W

e offer products and services to a variety of markets that are technically complex.

W

e offer specialized equipment and technologies that provide the highest standards of design, quality and innovation.

W

e offer access to GChemical On-Line Chemical Communitysm which includes Discussion Forums and Tools-of-Trade.

W

e are devoted to customer savings and we have developed GChemical Cost Standardssm.
We strive to maximize customer satisfaction through an interactive problem solving relationship while adhering to the principals of Responsible Care®.

We place emphasis on environmental responsibility and we subscribe to the Responsible Care ® guidelines of the Chemical Manufacturers Association.
We strive to provide maximum return on our customer's business investment without compromising service.